Pelto Bulldogges LLC was small breeder in Woodbury, Minnesota. We bred from 2001-2018.

My two retired bulldogges live in my house with my wife and I. Our bulldogges are a huge part of our family. We do not kennel our pets. I encourage anyone interested in adopting a pet to call my cell @ 651-775-7490 and set up a time to come by and meet the girls. The dogs are my hobby and passion.

You may notice a very different look in all the dogs on my Our Dogges page, as well as the dogs on my past litters page. The Olde English Bulldogge is a breed that was developed in the 1970's. The breed was created to hopefully make a healthier Bulldog. The foundation crosses of the Olde English Bulldogge consisted of, 1/2 English Bulldog, 1/6 Bullmastiff, 1/6 American Pit Bull Terrier and 1/6 American Bulldog. Many of the differences you see in the looks of my dogs as well as the differences in dogs from breeder to breeder, are the many outcrosses that have taken place since the breed was introduced.

True to what we do, this, as well as all of our litters will be whelped live and broadcast 24/7 here until the pups go home. If you are after a short, compact, bully and very atheltic bulldogge that can run like the wind then this is the litter for you.

So, with that being said, others have done outcrosses with other breeds to introduce color or size as well as the look they are trying to achive. Everyone is trying to achieve something different. I am shooting for a little less height in my line without compromising health. A link to a picture pedigree of each of my dogs is available at the top of each of my dogs pages.

Every family has different activity levels, other pets and its own energy. Please talk to Ed about which puppies will best fit your lifestyle.

Shipping of puppies throughout the United States has become 2nd nature and problem free. We can ship to most parts of the US via personal in cabin transport for $400-$500 depending on where you live. In other words my courrier will take the puppy on the aircraft in a soft sided kennel and the pup will ride under the seat in the airplane. This in cabin transportation is limited to certain parts of the country. Cargo shipment may be necessary.
We were a very small breeder in Woodbury, Minnesota. We have put our breeding program on hold at this point.
The pups all have such different personalities, so I don't want to label our Olde English Bulldogges with any specific temperament. They can be very laid back to very athletic. They are all very smart and will be what you make them. Excellent family pets!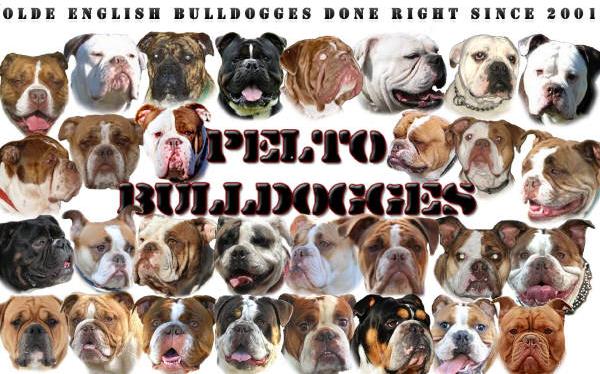 Daisey, Cyrus, Spike, Gargoyles Black Omen, Gargoyles Auger, Brody, Chuck, Grandmabeths Vincent, Gargoyles Dolly, LuLu, Gargoyles Hugo, Sir Jr., Peach, Maggie May,
Misty, Tina, Kiera, Opal, Yaddle, Faith, Stella, Tank,
Rowan, Rio Bravo's Lynard Skynard,Power House Kennel's Baxter of Reformation Bulldogges, Buster, Pancho, Tonda's Sir McGraw, Petro and Empire's Woden.

These are all of the dogs I have used up to 2015.